From time to time your computer may suffer from issues at start-up. You may also be experiencing graphical glitches, or even finding that the colors and resolution on your computer is just not working properly. Thankfully, this is a problem which is quite easy to deal with. It also does not involve the removal and replacement of your graphics card.
In fact, the solution is as simple as updating the graphic drivers on your computer. Once you learn how to do this, you will be able to fix almost any hardware problem on your computer with ease.
What are Drivers?
You have dozens of pieces of hardware connected to your computer. Everything from your mouse to your graphics card to your network card makes your computer run properly.
At the center of everything you have your Windows operating system. This controls the operation of your computer. It will link up your hardware to ensure that everything works in tangent with one another. Your operating system will not know what to do with the hardware automatically though. For example, it does not know that your graphics card is a particular graphics card unless it is told. It will be told through a special piece of software known as a 'driver'. This driver is a sort of interface between the hardware and operating system. It provides instructions on what that particular piece of hardware does and how it works.
Just like all pieces of software, drivers sometimes have coding errors in them. This means that from time to time they may not work properly. If they do not work properly then your computer will not know exactly what to do with a particular piece of hardware. This then causes major problems on your computer which will affect its use.
If you do not deal with this problem then you are going to be experiencing these issues for a long time. Thankfully, manufacturers of devices will release an update to their drivers whenever they notice an issue with them.
What do Problem Drivers do?
Pretty much any problem on your computer could be the result of faulty drivers. In fact, in most cases, problems with your computer can be dealt with by updating your drivers. If you have faulty graphic card drivers then you may experience the following problems: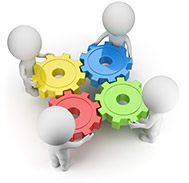 Slow start-up speeds and running speeds on your computer.
Graphical glitches.
Poor Color
Poor Resolution
'Blue Screen of Death'
Periodic cutting out of the image on the screen.
Low quality graphics in games.
This is not an exhaustive list.
In fact, plenty of other problems can happen to your computer. If you are experiencing a problem then it is likely that your drivers are at fault.
Installing the Correct Drivers
If you want to deal with the issues above then you are going to need to install the correct graphic drivers for your computer. In most cases this should fix the issues instantly.
It is worth noting that the method for installing drivers is notoriously complex. If you have never done this before then it is worth looking at the final two paragraphs where an alternate method will be discussed.
Driver Turbo allows you to update all device drivers automatically.
The first thing you are going to need to do is identify which graphics card you have in your computer. You will need to know the manufacturer of the device as well as the model number. If you do not know this information then you WILL NOT be able to use this method. If you install the incorrect drivers you will find that the problems with your computer become a whole lot worse.
The next thing you will need to do is head online to find the drivers. Preferably you will want to go to the manufacturer's website. If you can't do this then find a reputable driver website online. Do not download from 'any old' source as you will probably end up with viruses or something similar on your computer.
Locate the correct driver on the website. You will want to ensure that you get the right driver for your computer (make sure you think about whether you have a 32-Bit or a 64-Bit Operating System!). Again, you need to make sure that you download only the correct drivers to avoid causing yourself any more issues.
If you are lucky then the driver will be in a .exe format. All you need to do is load that up and the driver will install automatically. If it is in any other format then you will need to browse to your Control Panel and find the link called 'System'. Click that, find your graphics card, and then install the drivers using that method.
Please note: We only suggest that you use that method if you understand your computer and the hardware that is inside of it. If you do not know how to install drivers and do not know the manufacturer or even the model number of your device then DO NOT use that method. It is likely that you will end up causing your computer more harm than good. Instead you will want to use another method which will hopefully be a bit easier for you.
We recommend to use a special piece of software which will install the drivers automatically for you. This means that it will find out what drivers are causing you problems automatically and then installs the correct ones for you. All you need to do is press a couple of buttons and the software will do the rest of the work for you. It is quick, easy, and simple. There are dozens of pieces of software out there that you can use. Only a few of them will do the job reliably for you though. We recommend to use Driver Turbo which gets the correct driver each and every time.