Most Sound Card Problems are often due to audio / sound driver problems.
There are very few computer users out there who have not had sound problems on their computer before. Thankfully, the majority of these cases clear up pretty quickly.
If your sound is causing you problems and you do not know how to deal with it then this article is going to be pretty useful for you.
On this page you are going to discover that the majority of sound card problems are actually pretty easy to fix.
Check List for Problem Diagnosis
This page has been written with 'driver problems' in mind. However, before you look into whether drivers are causing the problem it is important that you rule out any other problems with the sound to begin with. This information may seem quite obvious but you will be surprised at just how few people think about the basics:
Is the sound on your computer muted? This is actually one of the biggest causes of sound problems on the computer and even experienced technicians will fall into this trap from time to time.
Make sure that all of your cables are connected up properly.
Have you installed any software before the sound stopped working? If you have, un-install it and see if the problem is fixed. You may also wish to run a virus scan.
If none of these solutions work then it is almost certainly your sound card drivers are causing you your problem. It is very rare to have a broken sound card. Thankfully, dealing with driver issues is actually fairly simple.
What are Sound Card Drivers?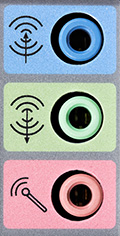 Every single piece of hardware on your computer (i.e. the parts that make up your computer, including peripherals such as your keyboard and mouse) have to install a special piece of software on your computer in order to work. These pieces of software are known as 'drivers'. Their job is to tell your operating system exactly how a specific piece of hardware is meant to function. In this case, it tells the computer that your sound card is meant to deal with the sound on your computer.
As with any other piece of software, sound card drivers are not 'infallible'. From time to time there can be problems with the coding that was unanticipated by the hardware developer. This can end up causing all sorts of problems on your computer. Basically, it means that your operating system no longer knows how a piece of hardware is meant to work exactly.

In the case of a sound card driver becoming corrupted the following problems can occur:
No sound comes through your computer at all. This can either be in certain programs or just no sound in general.
Crackling sound or interference coming through your speakers or headphones.
Sound is far too low.
Error messages pop up on the screen which continue to appear even after you have closed them down.
Dealing with Driver Problems for your Sound Card
When your computer starts suffering from problems you are most likely going to want to get it 'back on track' as soon as you can.
As mentioned previously, problems with computer drivers are actually fairly simple to deal with. You have to know what you are doing though.
The first thing that you are going to need to do is identify the exact sound card that you have installed in your computer. This should be fairly easy to do. If you built the computer yourself then you will know exactly what sound card you put into your computer. If you purchased your computer 'ready-built' then it is likely that there is a model number on your computer and you should find the system specification online. It is important that you know both the model number of your sound card as well as the manufacturer of the sound card. If you do not know this information then you are going to need to use the method that I detail after this 'step by step'.
Once you know the exact drivers you are looking for it is time to head online. A quick Google search will show you that there are thousands of different places online where you will be able to download drivers for your sound card. I suggest that you only head to reputable websites i.e. the manufacturer's website. This way you can be sure that you are not accidentally downloading software which will cause even more problems on your computer.
Once you have found a website which includes your driver you will find a variety of different ones listed. You will need to choose the right one for your operating system. This includes choosing whether you have a 32-Bit or 64-Bit operating system. If you do not know this information then you should read the final few paragraphs for an alternative solution. You should not install drivers unless you know they are fully compatible with your operating system. If you do then it is likely you will end up causing more problems than it solves.
Download the correct driver.
In most cases the device driver will come as a .exe file. All you need to do is run it and the driver will install itself. If it comes as any other format then you will need to open up your 'Control Panel' and browse all the way through to your 'Device Manager'. You will then have to find the driver in this list and install that way.
In some cases this method can be a little bit confusing. Even for seasoned computer experts it can be a little bit difficult to install drivers. Thankfully there is an alternative method.
There are a few pieces of software out there, Driver Turbo being one of the most popular, which will find and install the drivers that you need automatically. All it takes is a couple of clicks and your computer should be fixed. If you run this type of software regularly then you will never have to worry about problems with your computer again.