How to Find and Install Canon Drivers and Driver Updates

Canon, a Japanese company, are one of the largest producers of imaging and optical products in the world. They have a plethora of products in their range from printers to cameras which can be hooked up to your computer. In order to get them working however you are going to need to install the correct drivers on your computer. On this page you discover why and how you can go about doing this.
First, what are Computer Drivers?
Every single piece of hardware on your computer requires the installation of 'drivers'. It is these drivers which tell your operating system exactly what to do with a particular piece of hardware. For example, if you have a Canon Printer then the operating system will be told that this item is meant to print. Without drivers installed the hardware will not function correctly.
Now, Canon is a pretty large company. It is very rare (if ever) that they will release buggy drivers for the hardware that they sell. However, it is worth noting that just like every other piece of software, bugs can creep into the drivers from time to time. Most of the situations which cause these bugs were something that was completely unanticipated to begin with (for example an update to your operating system). Canon are fantastic at releasing new updates to their drivers as soon as possible. Just like every other company though, they are not ones to inform somebody if drivers need updating. They expect you to go searching for them yourself.
You will know that you may have driver issues if one of the following situations occurs:
(Note: this is NOT an exhaustive list)
The hardware stops functioning completely. For example, you may have a Canon Camera which is not being recognized by the computer.
The hardware does not function in the way that it should. For example, a printer may print random characters on a piece of paper from time to time.
The 'blue screen of death' when you use a particular piece of hardware. Thankfully this is not a common problem nowadays.
Installing drivers is not that difficult. Here are three different methods that you can utilize to get the correct drivers onto your computer.
Install Canon Drivers from Supplied Disc
The majority of Canon products will come complete with drivers on a disc. All you need to do is put this disc into the computer and it will install automatically. However, your work is not done yet. It is likely these drivers will be 'out of date'. Often there will be a software utility that installs the same time as the drivers are installed. All you need to do is boot this software utility up. In most cases it should tell you whether new drivers need to be installed. If you do not have a disc then you will need to use one of the other methods.
Installing Canon Drivers Manually
Note: Please only use this method if you are confident that you will be able to get the CORRECT driver and install it properly. This may require a significant degree of computer knowledge. If you install the incorrect drivers then you may cause more serious issues than your hardware not working correctly!
The first step is to identify what hardware has out of date drivers. This should be fairly simple as you ALL Canon products have the model number written somewhere on it. Make a note of the exact model number. Many Canon products have different 'versions' i.e. type 1, type 2, etc. There is no guarantee that drivers for a type 1 model will work with type 2.
Once you have identified the exact model of your hardware then you can head online. The best place to search for drivers is on the www.canon.com website. There are also a number of other sources that you can utilize. However, there is no guarantee that what you are downloading is the right piece of software. This is why it is suggested that you always source from 'official' sources.
On the Canon Website you will need to identify the section for 'support'. In some areas it may list a dedicated downloads area. You will then be greeted with a search bar where you will be able to type in your model number. Do so.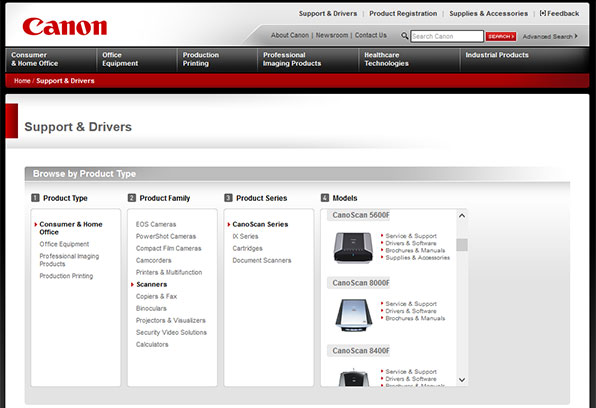 You will then be greeted with a list of different drivers. It is your job to find out what one is right for your system. Remember, you need to make sure you identify the right operating system from the list! Once you have found the right driver download it.
At this point you should UNPLUG your hardware and run the .exe file. The software will install the drivers automatically. At some point you will be told to plug in the hardware. Do so. If you installed the correct driver then the hardware should now work flawlessly.
Alternative Solutions for Installing Canon Driver Updates
Now, if you know what you are doing then it is not going to be that difficult to install Canon Drivers using the technique mentioned above. However, it is important that you know EXACTLY what you are doing. Even the most hardened of computer users will not use the above strategy if they do not know the exact driver that needs to be installed. There is far too much that can go wrong.
It is suggested that you look into other ways in which you can install your drivers. One of the most popular methods is known as Driver Turbo. This is a piece of driver search software which runs automatically and will find the EXACT drivers that you need. All you need to do is press a single button and you are good to go. If you do not feel confident with the previously mentioned method then this is probably going to be your best bet. You can download Driver Turbo here.